APERITIVO HOUR AT THE DOLPHIN WINE ROOM EVERY SUNDAY – THURSDAY, 5-7PM
Aperitivo Hour has been at the very heart of the Wine Room since the inception of the hotel just over a year ago. The concept has been based on Maurice's experience and groundbreaking work at The Melbourne Wine Room in The George Hotel in Melbourne, which is to build a place of quality service, impeccable product and in as many words circle back to what 'real hospitality' is.
In its simplest form, the concept is very well priced drinks and delicious plates of super-value snacks from Sunday to Thursday, 5-7pm priced at a super-reasonable $5-7.
Executive Chef Monty Koludrovic and Wine Director James Hird have set out to create a space where, chefs who are friends, visiting winemakers or importers who are family, can drop by and taste with staff and customers alike. It is a meeting place, a place where friends and the wider community can come to catch up and engage in what they love with the creators of what they love.
Aperitivo Hour has taken some time to reach the point where we feel like it embraces that plan in a modern and more natural Dolphin way. There is some of the irreverence there of the Melbourne Wine Room, enhanced by embracing the 'happy hour' concept whilst still highlighting the correlations with the distinct Italian way of life – 'aperitivo'.
The concept aims to be a place of creativity, providing access to some of Australia's and the world's most renowned chefs, wine makers and restaurateurs. Aperitivo Hour is about having a drink with friends and trying dishes from chefs and winemakers that ordinarily would be less accessible in a casual setting.
The guest chefs will be invited to create their own snacks in our kitchen and join us for wines and dinner afterwards. Pinbone doing Cotoletta Calzone's and Italian spring rolls, Alex Herbert delivering her favourite Bird Cow Fish toasted sandwiches. Danielle Alvarez and O Tama Carey bringing their incredible produce driven approach and the world class islander vibes of Paul Carmichael and Louis Tikaram. Local award winning chefs CJ Wells, Daniel Puskas and Mitch Orr, they'll be there too. (See the full list of guest appearances below.)
A menu of handful of special snacks and an equal handful of 5-6 drinks including wines poured by makers. All items either $5 or $7 Highlights – Prosciutto and grissini, Fried Olives, Anchovy Toast, Tuscan Fried Chicken, Escabeche Mussels. $5 Prosecco, spritz, high value wine pours and beer plus a pre-batch.
#bottlenosebros #twr5to7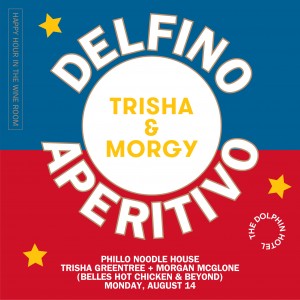 GUEST APPEARANCES

APRIL – 9th Eggert & Whiteman, Good Luck Pinbone, Sydney
APRIL – 24th O Tama Carey, Everywhere, Sydney
MAY – 1st Ben Sears & Ned Brooks, Korexican Oracle, Sydney
MAY – 5th Tom Shobbrook, Barossa Valley, NSW
MAY – 8th Chef Mike Bennie & Brian Wines, Tasmania
MAY – 15th Alex Herbert, Bird Cow Fish, Sydney
MAY – 29th CJ Wells, Automata, Sydney
JUNE – 4th Andrew Guard, Andrew Guard Wine, Sydney & Cian 'Irish' Mulholland, Momofuku Seiobo, Sydney
JUNE – 11th Louis Tikaram, EP & LP, Los Angeles
JUNE – 18th Paul Carmichael, Momofuku Seiobo, Sydney
JUNE – 25th David Moyle, Franklin, Hobart
JULY-  2nd Veronica Trevizo, Momofuku Seiobo, Sydney
JULY – 5th Pasi Petanen & Giorgio De Maria, All the good places, Sydney & Beyond
JULY – 10th Mitch Orr, ACME, Sydney + Peter Dredge, Dr Edge Tasmania
JULY – 16th Superior Burger – Jovan Curic + DRNKS – Joel Amos, Sydney
JULY – 23rd Daniel Pepperell, Hubert, Sydney
JULY – 31st Lillia / ACME + Joeri / Automata
AUGUST – 14th Phillo Noodle House, Trisha Greentree + Morgan McGlone (Belles Hot Chicken & Beyond)
Open invite sent to all Rootstock Sydney Festival producers, winemakers and chefs + many more.
PR Enquiries: Rose Marie Pengelly – 27 Albion Street, Surry Hills NSW 2010 / ua.mo1503330753c.yro1503330753tcafc1503330753ra@yl1503330753legne1503330753pr1503330753 / 61 405 578 351