The Dining Room is a one-hatted, casual dining space led by Maurice Terzini, head chef Tom Deadman and sommelier James Hird.
The menu focuses on quality, provenance-driven modern Italo-Australian food whilst the wine list features 300+ local and international rarities by the bottle with a real and natural wine focus.
The lively space features high exposed ceilings, an open kitchen and wood-fired pizza oven designed by Sydney architect George Livissianis, with the walls adorned with pieces by resident artist Beni Single and floral sculptures by Tracey Deep.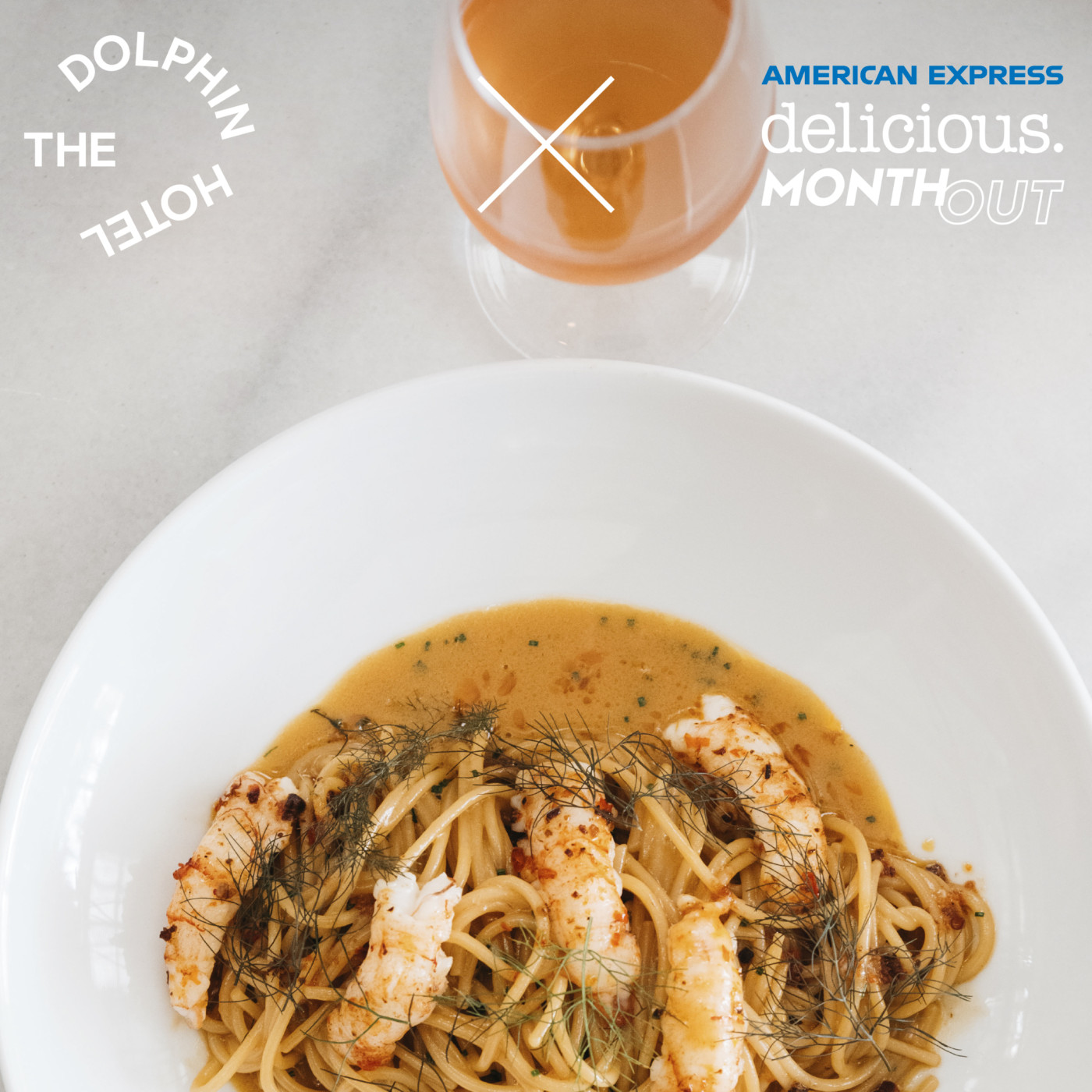 For a week in March, we're partnering with American Express + delicious. magazine for 'Month-Out', an initiative to get people out there experiencing new things, eating amazing food, snacking and partying.
Bringing the party to The Dolphin Dining Room is a very special dish, Scampi Spaghetti, Lemon, Chives & XO Butter paired with some Big Orange wine from Owen Latta from Ballarat, Victoria.
Available in The Dolphin Dining Room from Monday 9th March for one week only.
Lunch Fri-Sun From 12pm
Dinner 7 Days From 5:30pm
"THE KID WHO THROWS HIS SPAGHETTI FROM THE HIGH CHAIR ONTO HIS FATHER'S FACE, HE'S PUSHING BACK. HE'S STICKING IT TO THE MAN AS HE SEES IT. I LIKE THAT. SO THAT IS PUNK."
Henry Rollins
ANTIPASTI
Garlic Bread  8
Polenta Chips c.2002  12
Vannella Burrata, Alto Extra Virgin Olive Oil  12
Salami Plate Selection: Prosciutto, Mortadella, Salami  20
Grilled Broccolini, Ortiz Anchovy & Holy Goat Fromage Frais  22
MAINS
Dolphin Risotto  30
Spicy Fusilli Goldy Gin, Tomato, Parmesan & Basil  22
Strozzapreti con Ragu Salsiccia, Fermented Chilli, Basil & Ricotta Salata  30
Herb Roasted Chicken, Purple Kale, Cherry Tomatoes & Olives  32
Grilled 200g Rib Eye, Fries, Garlic, Capers & Balsamic  30
Market Fish, Crushed Potatoes, Blistered Tomatoes & Laver Tapenade  30
Dolphin Cheeseburger & Fries  18
Chicken 'Cotsu' Burger, Shaved Cabbage, Cheese,
Fermented Chilli & Fries  20
Roasted Yellow Squash Salad, Pine Nuts, Golden Raisin
& Green Goddess Dressing  20
Add Herb Steamed Chicken Breast  6
 SIDES
Shoestring Fries 10
Rocket & Parmesan Salad 10
Peas, Mint & Cabbage 10
PIZZA
OUR STYLE OF HAND STRETCHED PIZZA INSPIRED BY TRADITIONAL PIZZA OF ROME AND NORTHERN ITALY
Our pizza is made using 100% Australian ingredients… except anchovies & proper parmesan and the guy making it… maybe he isn't Australian either.
THE DOLPHIN DOUGH
Centurion Organic Flour; 48 hr Ferment; 1.33% yeast; 2% Olsson's Sea Salt; ALTO Extra Virgin Olive Oil; Filtered Water, Tomatoes; Sustainably Grown in NSW & Victoria Cheese; La Stella, Auburn, NSW
Sorbello 20
Marinated Heirloom Cherry Tomatoes, Garlic, Basil & Mozzarella
Marinara 24
Tomato, Anchovy, Olive, Fresh Garlic, Chilli & Oregano – No Cheese
Viva Italia $24
Zucchini, Mozzarella, Heirloom Tomatoes, Buffalo Ricotta & Oregano
Salumi Anton 26
Berkshire Leg Ham, Pancetta, Smoked Pineapple, Mozzarella & Rocket
Meat Meat Meat 26
Double Pepperoni, Roasted Onion, Fresh Buffalo Mozzarella
Funghetto Superstar 26
Fermented Chilli, Mozzarella, Potato, Pancetta, Mushrooms, Parsley
DESSERT
Zokoko Chocolate Tiramisu 14
Mango, Lime Semifreddo, Yoghurt Meringue, Lemon Verbena & Honeycomb 16
CAFFE
Organic Vittoria Coffee 4
Dolphin Banquet Menu
Required for groups of 10+ people
BANQUET 1
$60/HEAD, ALL SERVED TO SHARE
ANTIPASTI
Schiacciata, Rosemary & Garlic
Local Burrata, Alto Extra Virgin Olive Oil
Prosciutto San Daniele, Sorrel, Capers, Chilli & Garlic
PRIMI
Rigatoni with Prawn, Chilli and Basil
Selection of Pizzas
CONTORNI
Shoestring Fries
Rocket & Parmesan Salad
—
BANQUET 2
$75/HEAD, ALL SERVED TO SHARE
ANTIPASTI
Schiacciata, Rosemary & Garlic
Local Burrata, Alto Extra Virgin Olive Oil
Prosciutto San Daniele, Sorrel, Capers, Chilli & Garlic
Grilled Broccolini, Ortiz Anchovy & Holy Goat Fromage Frais
PRIMI
Rigatoni with Prawn, Chilli and Basil
PRINCIPALE
Fillet of Market Fish, Herb Butter, Sorrel & Lemon
Herb Roasted Chicken, Purple Kale, Cherry Tomato & Olives
CONTORNI
Shoestring Fries
Rocket & Parmesan Salad
VINO
SPARKLING
Cielo Prosecco – Glera NV 12  56
Veneto Italy
Paltrinieri 'Radice' – Lambrusco di Sorbara 2017   69
Emilia-Romagna Italy
Ari's Natural Wine 'Pash & Pop' – Pet Nat 2019   75
Southern Highlands NSW
Basket Range Wine – Pet Nat 2019 14  75
Adelaide Hills SA
Perrier-Jouet Grand Brut NV 25  155
Chardonnay Pinot Noir
Epernay France
WHITE
Bird & Fox – Semillon 2017 10  49
Margaret River WA
N.1 – Sauvignon Blanc 2018 11  52
Marlbourough NZ
Limbo – Sauvignon Blanc 2018   62
Nelson New Zealand
Domaine Etienne & Sebastien Riffault 'Les Quarterons' – 2016   105
Sancerre France
Mandoleto – Pinot Grigio 2018  55
Veneto Italy
Cantina Colterenzio – Pinot Grigio 2018  13  66
Trentino Italy
Geyer Wines – Muscat of Alexandria 2016  13  70
Barossa Valley SA
Domaine Christian Binner 'Çotes d'Amourschwihr'- 2013  90
Alsace France
Tyrrell's Wines – Chardonnay 2017  12  58
Hunter Valley NSW
Ochota Barrels 'Slint' – Chardonnay 2019  85
Adelaide Hills
Joshua Cooper 'Captains Creek' – Chardonnay 2018   105
Macedon Ranges VIC
Domaine Moreau Naudet Chablis – Chardonnay 2017  115
Burgundy France
ORANGE
Owen's Big Orange – Field Blend 2019  9   58/1L
Ballarat VIC
Tom Shobbrock – Muscat 2019  85
Barossa Valley SA
ROSE
Vin sur Vin – Grenache Blend 2018  12  58
Provence France
Harkham Wines 'Hark Angel' – Shiraz 2019  64
Hunter Valley NSW
Yetti & The Kokonut 'B'Rose'  13  69
Grenache Gewurztraminer Cabernet Sauvignon 2019
Adelaide Hills SA
RED
RED
Tom Shobbrook 'Poolside' – Syrah 2019  14  75
Barossa Valley SA
Mount Macleod – Pinot Noir 2018  13  65
Gippsland VIC
Dr Edge – Pinot Noir 2018   109
Hobart TAS
Ochota Barrels 'Botanicals' – 2018   85
Adelaide Hills
Babo Chianti – Sangiovese 2017  12  61
Toscana Italy
Take It To The Grave – Grenache 2018   55
Mc Laren Vale SA
Ochota Barrels 'From the North' – Mourvedre 2019  85
Adelaide Hills
Les Vignes de Babass 'Groll'N'Roll' – Grolleau 2018   95
Loire Valley France
Carussin 'Terzini' – Barbera 2017   9  58/1L
Piemonte Italy
Latta Vino 'Terzini Blend' 2016  13  70
Pinot Noir Syrah Nebbiolo Mataro
Ballarat Victoria
Domaine de Brin – Vendemia 2018  75
Merlot Duras Braucol
South West France
Pulse – Syrah 2017  13  67
Limestone Coast SA
Domaine de Ferrand 'Mistral' 2018   68
Grenache Syrah
Rhone Valley France
DRINKS
Old Banana Joe 17
Bulleit, Amaro Montenegro, Ginger Bread, Banana
Mirtillo 16
Blueberry Wine, Sweet Vermouth, Select, Bergamot, Blackberry Soda
Espresso Martini 16
Tequila, Campari, Mr Black, Peach, Vanilla, Espresso
Hipster Cold Fashioned 17
Pampero Especial Rum, Coffee Kombucha, Montenegro, Whey
Miami Vice Negroni 18
Tanqueray, Martini Bitter, Sweet Vermouth, Strawberry Gum, Coconut
Lonely Flower Spritz 17
Cucumber Tanqueray, St Germain, Soda
Gimlet N8 16
Goldy Gin, Campari, Lemon Myrtle, Grapefruit Cordial
Moz Does Tiki 16
Martini Bitter, Pampero Blanco, Pineapple, Almond, Lime
You Had Me At Aloe 18
Calvados, Nectarine, Aloe Vera, Fresh Lemon
BIRRA
Friendly Lager , New Zealand 9