TRY THE MENU TODAY IN THE DINING ROOM
THE PRODUCER'S #3
BOOK NOW FOR THE PRODUCERS MENU
$60 per head
ANTIPASTI
Buffalo Ricotta with Bottarga XO & Focaccia
Salt Baked Chicken & Leek Terrine with Pickles
Pastrami, Crispy Potato Skins & Smoked Salt
PIZZA
Spicy Sausage, Mushroom, Fermented Chilli & Garlic
MAIN
Grilled Market Fish with Pumpkin, Kale & Pancetta
SIDE
Crushed Dutch Cream Potatoes with Salsa Verde
DESSERT
Frozen Affogato
Salted Macadamia Nougat
The menu will be available for the whole month of May for Lunch and Dinner.
THE DOLPHIN DINING ROOM PRESENTS
"THE PRODUCERS"
A SERIES OF LONG SUNDAY LUNCHES IN THE DINING ROOM CELEBRATING AUSTRALIA'S BEST PRODUCERS
This month, in conjunction with the delicious. Produce Awards, we're launching our Producer Focus series in the Dolphin Dining Room. The monthly menu series is designed to place some of Australia's best producers in the spotlight.
While, it is said the mark of a good chef is how they make an omelette, we believe a leaf salad is every bit as difficult. It's just the difficulty in producing a perfect bowl of leaves starts (and almost ends) in the fields, not in the kitchen.
Consequently, some of Australia's best producers have long been silent members of our kitchen brigade. That relationship is the only way to, literally, build a menu from the ground up. We love their work, but we're done with the silence!
Our chef Monty Koludrovic, who has been a judge for the Produce Awards for the past few years, says "Working with these producers is a privilege for a chef. Sometimes it's the simplest things that are the hardest to get right – once they do, it's up to us to show restraint. It would be rude not to."
For the inaugural menu Monty and his team have focussed on the innovators in the fields, oceans and mountains. Our diners will be among the first to taste Australia's first un-cooked raw milk cheese, with Pecora Dairy's fetta; to taste ghee made from Pepe Saya's new organic butter; to indulge in varieties of radish and leaf we have never tasted before.
We will kick off each monthly menu with a lunch in The Dolphin Dining Room, playing host to our guest producers/farmers, whose produce will subsequently feature in a new dining room menu for the month ahead – to sit alongside our regular menu and pizzas. The five-course menu can be shared among the table, or ordered individually.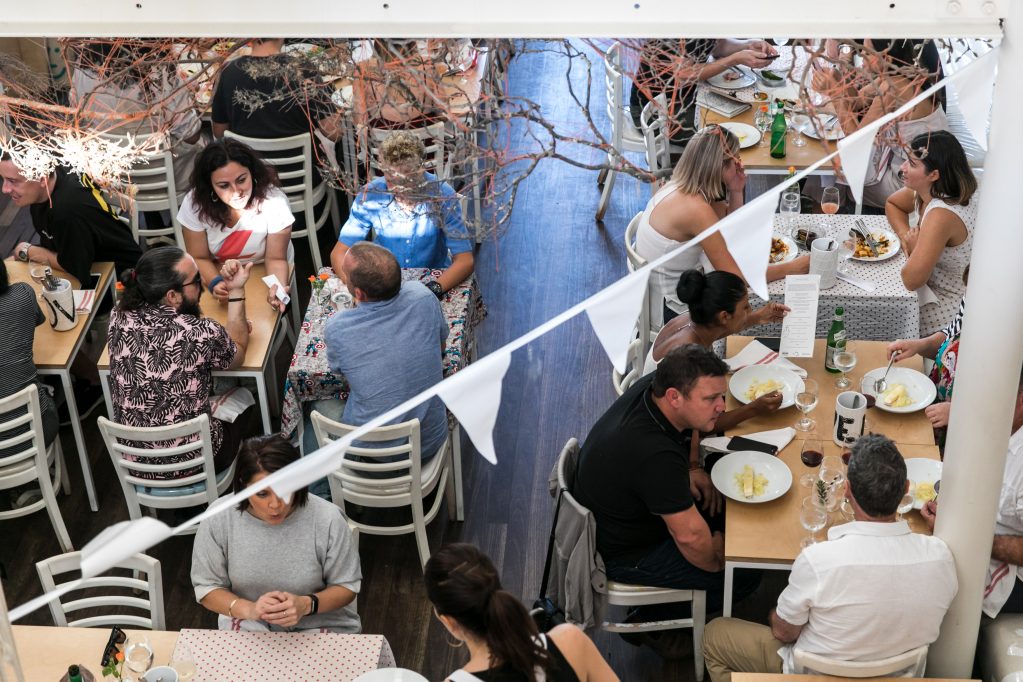 WHYALLA, SOUTH AUSTRALIA
Olsson Industries, established in 1948, is Australia's oldest family-owned producer of sea salt in Australia.
Olsson's salt is unique because of the location of its salt-pans in the Eyre Peninsula in South Australia and Port Alma (near Rockhampton) in Queensland.
Both locations share some of the most pristine bodies of water on earth resulting in sea salt rich in marine minerals and trace-elements.
delicious. producer awards State winner 2016 – Sea Salt Flakes
delicious. producer awards State winner 2017 – Red Gum Smoked Salt
delicious. producer awards State winner 2018 – Sea Salt
You can find Olsson's Salt on The Producers menu in the Salt Baked Chicken & Leek Terrine with Pickles, Pastrami, Crispy Potato Skins & Smoked Salt & the Salted Macadamia Nougat dessert dish amongst other things.
MARRICKVILLE, NSW
Vannella Cheese was born in Conversano, Puglia – along with most of their family! The Southern Italian town is also the birthplace of their burrata.
When they moved to Australia, they moved their lives around this cheese, first setting up in Cairns to be close to the dairy herds and buffalo and later moving to the city, to bring the fresh cheese closer to the tables where it was being served.
You can find the Vannella cheese on The Producers menu in the Buffalo Ricotta with Bottarga XO & Focaccia dish.
 SOUTHERN HIGHLANDS, NSW
Located in the cool climate of the Southern Highlands of NSW, Moonacres comprises an organic farm, cafe and – coming soon – cooking school and restaurant. We are committed to the ethical production of the best quality food from farm to table.
At our organic farm we aim to produce the very best tasting fruit and vegetables in a manner that nurtures the land. We humbly accept that farming is, by its very nature, hard. Weather, weeds, pests, machines and even best laid plans, will sometimes turn sour and crops will fail. But this is part of our job, and we are committed to working with nature, not against it. Doing this, we enrich rather than rob our environment – and our collective future. Our produce has won numerous awards and is favoured by some of Sydney's top chefs at restaurants with as Ester, Fred's, Firedoor, Bacco, Clove Lane and of course The Dolphin Hotel.
You can find Moonacre Farm's produce on The Producers menu in the Salt Baked Chicken & Leek Terrine with Pickles, Grilled Market Fish with Pumpkin, Kale & Pancetta dishes.
MID NORTH COAST, NSW
Burrawong Gaian Poultry farm is located on the Mid North Coast of NSW in the beautiful Macleay Valley. They raise their poultry using a pasture raised model and have Humane Choice accreditation to assure the birds are raised ethically and sustainable.
They grow Joyce's Gold Heritage Chickens, regular meat birds, Pekin and Muscovy ducks as well as geese. A unique feature of their farm business is an on-site abattoir where we can ensure quality control and deliver a premium paddock to plate produce.
This is the 7th year their produce has gained recognition in the delicious Australia Produce Awards and the heritage birds are the fourth poultry product they grow to gain an award or medal which is an exciting achievement for their small farming operation.
You can find Moonacre Farm's produce on The Producers menu in the Salt Baked Chicken & Leek Terrine with Pickles dish.
SYDNEY, AUSTRALIA
Pilu Bottarga Sourced and produced, in Australia by Pilu – Bottarga, an Italian delicacy of Sardinian and Sicilian origin, is a deliciously salty air dried fish roe. Central to Sardinian cooking, bottarga is often referred to as, "the caviar of the South". Giovanni Pilu has pioneered the bottarga industry in Australia with Southern Fresh Seafood – working together in the Sardinian tradition.
Produced from the roe of mullet fished off the coast of Northern NSW and Queensland – simply salted with a secret blend of Olsson's Sea Salt, pressed and air dried.
You can find Moonacre Farm's produce on The Producers menu in the Buffalo Ricotta with Bottarga XO & Focaccia dish.
Erina, NSW
The story of Mr Black starts in 2013 with a chance meeting between Philip Moore, one of Australia's foremost distillers, and Tom Baker, coffee-nerd and designer. Together, they founded Mr Black Roasters & Distillers in August 2013 with a simple mission: take Australia's coffee culture into the night.
Each and every bottle is made by hand at our coffee roastery and distillery just north of Sydney, Australia. They produce consistently concentrated cold brew with head of coffee, Detlef Mohr, and Master Distiller, Philip Moore. The difference between something good and something great, after all, comes down to the details.
You can find Mr Black cold drip coffee liqueur on The Producers menu in the Frozen Affogato dessert dish.