Mardi Gras Recovery Party
Featuring Kristin Velvet (Berlin)
Sunday 6th March
Capping off our Mardi Gras Week with a Free Party
Featuring… Direct from Berlin
+ Troy Beman, Claire Knight
Let's up the tempo and up the negronis this magical Mardi Gras weekend: we're going open air for the recovery. Blowing the doors off the terrazzo, we invite guest extraordinary Kristin Velvet, one of Berlin's hottest pumphouse/techno deejays to lift up the open air vibes on Mardi Gras Sunday.
Resident at the legendary Watergate, captain of the Arms & Legs Record Label alongside her partner Daniel Steinberg, an all-round bad-ass dancefloor elevator extraordinaire. This is a party.
Joining us for the ride of our lives, Sydney's very own Troy Beman plays partyhouse and open-air spritz drinkin' hits. Our special guest Claire Knight (Melbourne) keeps it hot.
Eclectic, inclusive, friendly fun for everyone with the incredible Aaron Manhattan hosting serving up Cabaret flavours and magical moments. We're here, we're queer, we're ready to get it – it's Sunday Recovery on The Dolphin Terrace.
If a recovery meal is more your style, downstairs Delfino is open as always for Lunch + Snacks + All Day Dining. We're also slinging our signature Smoky Mary's all day long. Walk-ins welcome but reservations are definitely recommended.
A big weekend gives you a big old thirst – and when the thirst is real, Delfino is here to help you quench it.
Walk-in at anytime or book a table for Lunch + Dinner + All Day Dining – Reservations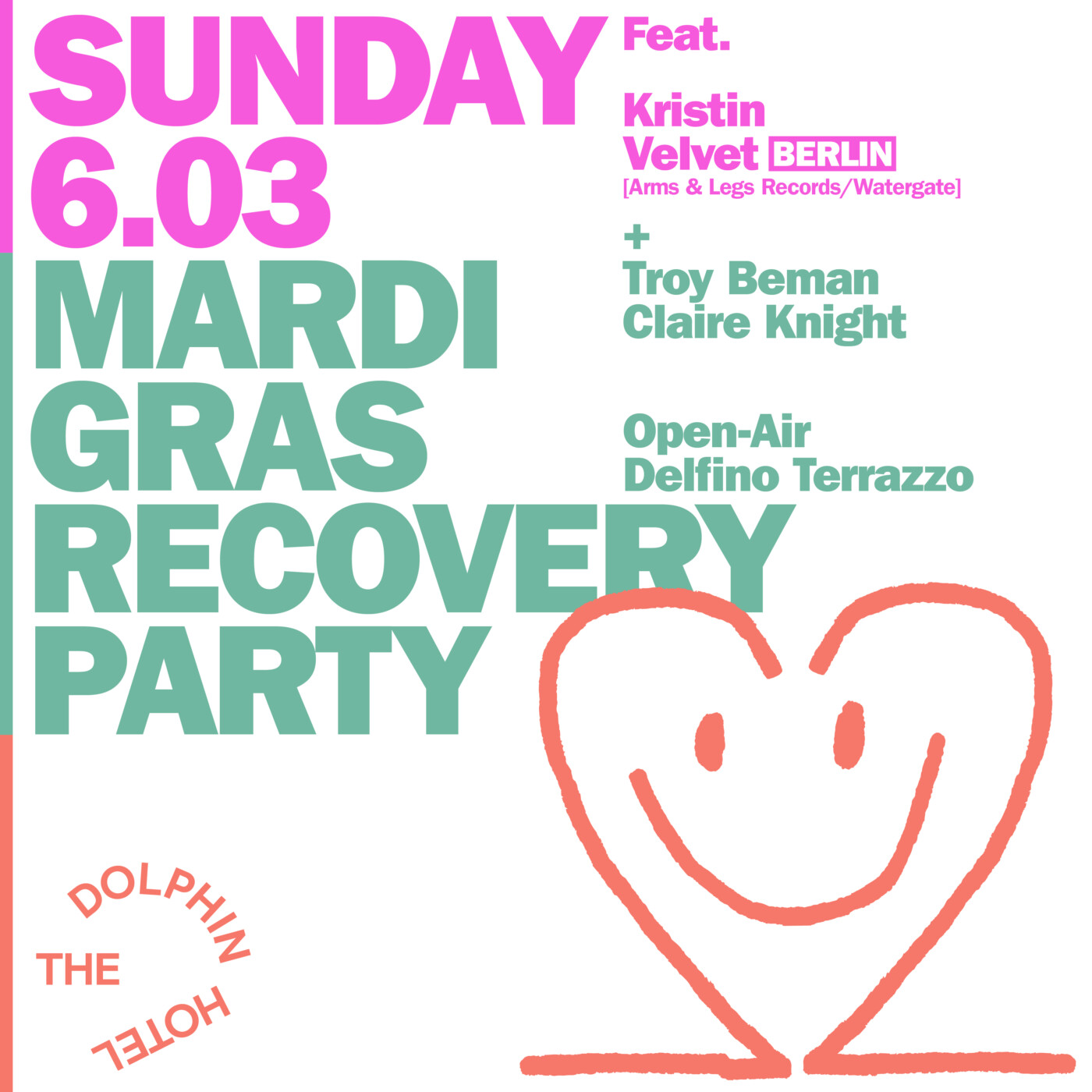 LUNCH + DINNER + ALL DAY DINING
Delfino Flood Fundraising Initiative 
Raising money to help fund the clean up & rebuild of communities & towns affected by the disastrous floods in New South Wales & Queensland.
In light of what's happening around Australia at the moment with the floods, we've decided to lend a helping hand by raising money for Disaster Relief Australia. We're donating $2 from every pizza sold from Friday-Sunday this weekend. There will also be donation points at each of our bars if you wish to contribute further.
We're committed to doing our part and helping those who need it. 
We look forward to raising this money with you over the weekend. See you for Lunch + Dinner + All Day Dining & our Mardi Gras Recovery Party! 
–
Disaster Relief Australia (DRA) unites the skills and experiences of military veterans with first responders to rapidly deploy emergency response teams in Australia and around the world. DRA is a not for profit organisation offering veterans a chance to continue their service by helping and empowering those afflicted by disasters, and also themselves. Programs and services are made possible by the support of individual donors, corporate partners, and the dedication of volunteers across the country.
Your generous support will assist Disaster Relief Australia put teams of volunteers on the ground quickly to assist in the clean up through these incredibly challenging conditions. Flood recovery is dirty work. We roll up our sleeves, mucking out mud, assist with fence line removal and chainsaw work on dangerous trees and remove rubbish and debris brought about by the floods.