PROPER SANDWICHES MENU 
CHICKEN COTSU
Chicken Cotoletta, Smoked Tomato Relish, Shaved Cabbage, Aioli
BASIL FOWLTY
Poached Chicken, Pesto, Sweet Potato, Pickled Onion & Rocket
THE ITALIAN JOB
LP's Mortadella, Salami, Asiago Cheese, Rocket, Aioli
GO GETTA PORCHETTA
Herb Roasted Pork, Crackling, Lettuce, Mustard & Sage Aioli
O.D.B 'BLAAAT'
Double Rasher bacon, Lettuce, Avocado, Tomato, Guandillas. Pre-Toasted
TROUT POUT
Smoked Trout, Gribiche Sauce, Red Onion. Served Open
ESPANA
Folded Spanish Omelette, Cheese, Herbs, Sherry Dressing
PARMARAMA
Baked Eggplant Parmigiana, Ricotta & Rocket
C(AP)RAZY
Heirloom Tomatoes, Mozzarella, Basil. Open
TOKYO 7/11
Egg Salad, Kewpie, Mayo, White Loaf Sliced & Chive Sprouts
FORZA SCAMORZA
Broccoli, Lemon, Anchovy, Chilli, Smoked Mozzarella. Toasted
SWINGHAMMER
Grilled Spicy Italian Sausage, Double Egg, BBQ Tomato Relish
SCHMITTER
Chopped Grilled Steak, Salami, Cheese, Tangy Special Sauce, Lettuce
THE BS
Cold Roast Beef, Salted Cucumber Pickles, Horseradish & Watercress
ROCK SLANGA
Meatball Classico, Spicy Pepperonata, Mozzarella
PASTRAMI RYE
Butter, Peppered Salt Beef, Dill Pickles, Pickled Cabbage & Mustards
SIDES
Shoestring Fries.
Cabbage & Pea Salad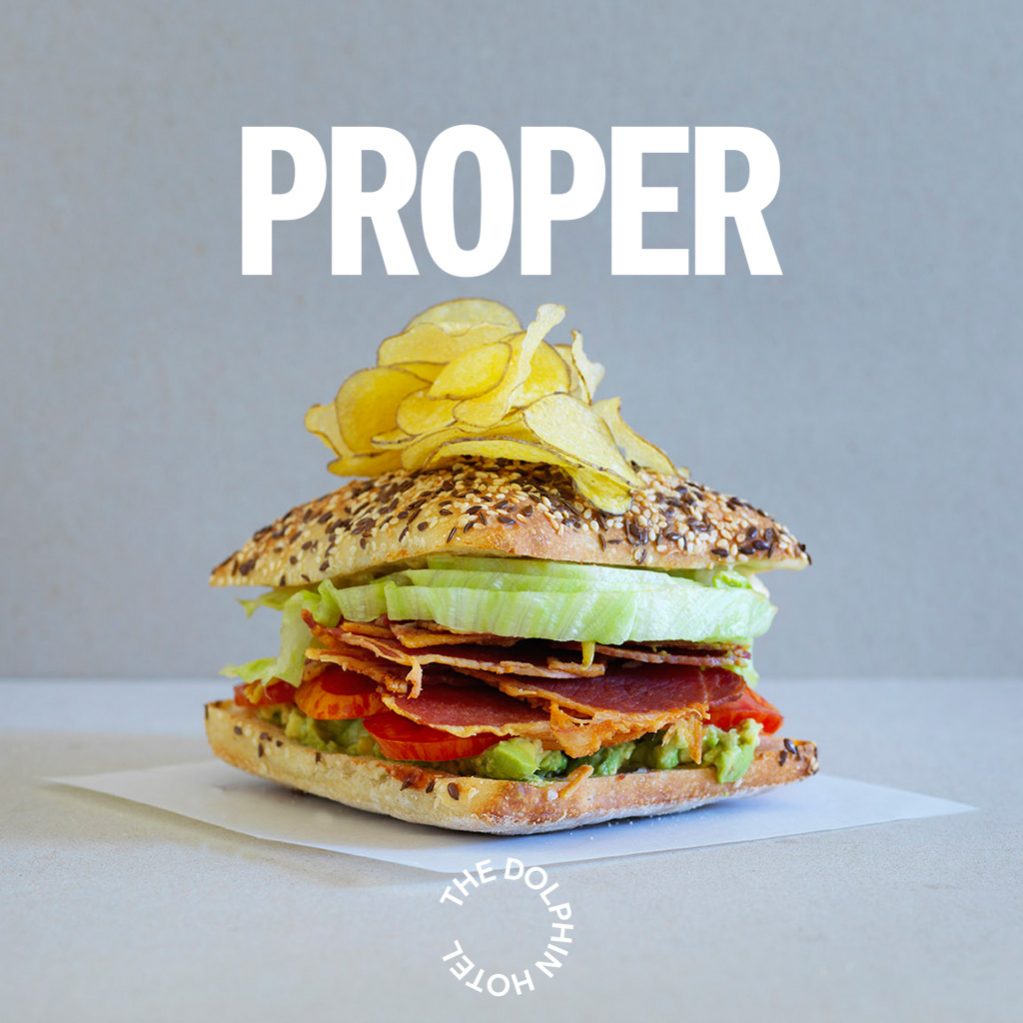 PROPER SANDWICHES
MON-FRI 12-3 OR UNTIL SOLD-OUT.
Sandwiches come and they go. Good ones drift in and out of our lives, some are more dear to our hearts than others, sometimes they even appear in our dreams. But are they always good? Unfortunately not.
The art of two pieces of bread has been the topic of much discussion the world over, but who are real sandwich architects with the master plans? We're not here to build brutalist monstrosities, we're here to renovate and remaster a classic, just like what we did here at The Dolphin.
The difference between "a good" and "a great sandwich" are miles apart. It's the difference between a satisfied sigh and being speechless. There's everything to consider; ratios, density, seasoning, dressing, softness, crispiness, the list goes on…
Maurice Terzini and Monty Koludrovic have sourced quality local ingredients, whether its smoked LP's Meats paired with the finest flours from Brickfields Bakery in Chippendale, or a selection of Deli products from our Salumeria collaboration with Victor Churchill's – you know we mean serious business when we talk about Proper Sandwiches.
"La Miranda… The mid morning or mid afternoon miranda (snack)… the highlight of my youth living in Italy. My afternoon snack would always be a panino from La Case Del Formaggio. Fresh Mozzarella, Prosciutto, Pomodori –  each layer seasoned to perfection! This is a great example of simple things that defined the way I eat today. Monty has taken these flavours / ideas / principles and introduced them into the Dolphin Panino program. I can't wait for that afternoon snack!!"
– Maurice Terzini.
"I've always had a real love for proper sandwiches. It's all about awesome bread, the best fillings and perfect condiments. It's a great example of when simple food, done well, can really bring the goods."
– Monty Koludrovic.
This is not a re-invention of the sandwich, this is our interpretation.
We're serious about sandwiches. Not plain, but very simple.
Available Monday to Friday, 12-3pm or until sold out.